dr. Snow "the Story" – the beginning of a legend
In the beginning all he had was a set of leather boots, two wooden skis with screwed-on edges, ski poles with big baskets and a knitted Norwegian sweater. Nowadays he has wide free-ride skis, specialised free-ride ski boots, a helmet, avalanche transceiver, avalanche probe, folding shovel, high tech ski-clothing, carbon fibre poles and an ABS backpack. The story of the transition from one to the other is the one I want to tell. 
The early days
He was born on a nice warm summer's day in July in Gothenburg, Sweden. We do not know much about these first few years. The first real memories stem from the winter when he was 4 years old. It was this winter that he started skiing. The small hill behind his home was used as a practise slope where he skied down in his leather boots and hiked back up again. Each day his Granddad would ask him how good his skiing was by now. His answer was always the same: "Like shit!" Which without fail made his granddad laugh. He also has a recollection of his mother's Nivea cream, which was applied to his face after a day outside yet always reminded him more of a dessert he wanted to eat.  At school he started to take part in other sports apart from skiing, especially ice-hockey and gymnastics. The anecdotes of these sports are not the main focus of this story but it suffices to say that he was also very good at them.  So back to skiing: There also were a few bigger hills scattered in the wider area of his home which became his hunting grounds. Lifts were nowhere to be seen on these hills and the magic word for getting back up the slopes was 'walk'.  The skis were still wooden with screwed-on edges but also had new cable tie bindings which could be fixed to the ski in an alpine style. Those days available skis were all multi-purpose items: it was possible to do Nordic cross-country skiing, downhill and ski-jumping with one set of skis. Much to his mother's distress the ski-jumping was practised a bit too often for her liking on a small local jumping ramp.
Mehr erfahren über "the early days"
His parents also had a holiday-cottage 25 km away from his home and most weekends and holidays were spent there. Close-by to this cottage was a ski-resort called 'Bollenkollen' with three lifts and with 300m in altitude difference to ski to one's heart's content. To a young boy this was heaven on earth and as impressive as the Alps would be to a grown-up. He explored the slopes, tried finding the best views and vistas, the longest descents and all the possible jumps. It should be added that his quest for finding the best views was not only pursued on skis. The boy would often head out on his bike to find the highest points with the best views for miles around. At a later point he told me that this wish to find the best viewpoint probably stemmed from when he was small and his Dad had carried him on his back up the Kebnekaise – the highest point in Sweden. He also, from his earliest childhood, felt a deep connection with nature. Every free minute he played outside, built huts in the forest with his mates, went fishing and in the summer holidays went on long hikes with his parents. His interest in indigenous cultures such as the Inuit and the Native American tribes and their philosophy hence probably started in his childhood.
After a childhood influenced strongly by sport, he continued his education in vocational training. A very tired teenager dragged himself through his lessons; he was known to use them for napping. Yet even with the time spent sleeping in class or maybe because of it he finished school with excellent grades. After school he continued training in industry to obtain the highest possible qualification as a plumber specialising in heating installations. But what had happened to the skiing? Shortly before his 18th birthday he went on a skiing trip in Geilo (in Norway) during his Easter holidays and it was this trip that changed his life.
The "game changing years"
Freestyle skiing had made its way from the USA to Europe and in Geilo a freestyle team had set up a show with somersaults off big jumps and ski ballet. The show fascinated him and quietly he promised to himself that he would be able to do these stunts too. After years of separately doing both skiing and gymnastics combining these two came naturally. After his Easter holidays he immediately went to Gothenburg to buy all the equipment: Roy Freestyle skis with Salomon bindings and Hanson ski boots. All the equipment was from Adams Sport, a shop that always was just that little bit different and eccentric than the other sport shops. At a later point Adams Sports would be his first sponsor. In a bookshop he bought a book on freestyle skiing which explained in detail how to carry out all the tricks and jumps.
With all the information and the kit amalgamated he headed to the slopes to make his first tentative steps towards being a "freestyler". Completely absorbed by this new sport he was drafted to his military service in Sollefteå in the north of the country. The military service itself provided no memorable highlight, yet the silver lining to being drafted was that there was a ski-slope close to where he was stationed which was open in the evening. Frequently after his shift he grabbed his skis and the book on freestyle to try the different tricks in the evening. Once the military service was completed he and some friends made their way to Zell am See/Kaprun in Austria to celebrate their new-found freedom.
More about the "game changing years"
In retrospect all seems to have been decided there and then: The high mountains and the possibilities this area provide are extraordinary. The glacier up high and the lake below surrounded by mountains provide endless possibilities for climbing, hiking, skiing, etc.
The week in Zell am See/Kaprun passed far too quickly and before he and his friends knew it they were back in Sweden. After his experience in the Alps his next steps were then clear to him. Already in the summer he signed up for the Salomon freestyle camp for one week in Tignes in France. One week turned into one month and he was completely hooked on freestyle skiing. One of the instructors at the camp was Stefan Engström who had developed ski ballet further. They would later both ski together in the Swedish national team and Stefan would furthermore found the company Peak Performance, a well-known ski-clothing company.
Back in Sweden he returned to his job at NVS as a heating specialist to obtain the final certification. In his free time he trained as much as possible and in the following winter he started taking part in competitions. He travelled to Stockholm to his first competition with his Volvo packed to the brim with his kit. Stockholm has ski-slopes within the city and the competition was on one of these slopes called Högdalstippen. He was very nervous and had no idea how the competition worked and what the outcome would be.
To give you a brief introduction to ballet skiing: It is comparable to figure skating on snow. The competitor skis his choreography to music and the tricks, jumps and somersaults are judged by a jury. The slope itself is between 250 to 300m and fairly flat. The skis are shorter than standard skis but the poles are longer to obtain sufficient height for the jumps and somersaults.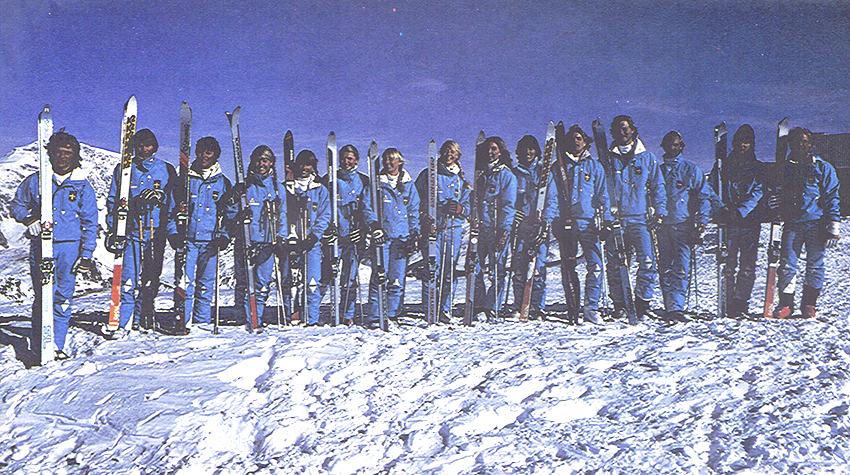 In this first competition he took part in 3 different freestyle disciplines: ski ballet, aerials and moguls, of which ski ballet was his favourite. In his first competition he was ranked 7th! He was very happy with his performance and was eager to continue and improve. His next competition was in Uppsala where he won the competition. There was no way back now – freestyle was his life.
At work he could organise his schedule to do more in summer when all the other colleagues were on holiday to have as much free time in winter. During his professional training at work he had also learnt how to weld and hence he built himself a ramp (this ramp was no small construction; it was about 10m long and weighing in at 200kg). The ramp was built to practise his jumps and somersaults and land in water. But how does one transport such a large ramp? This was resolved by fixing the ramp to the roof of his long suffering Volvo, yet as it was much longer than his car it did precariously hang off the car at both ends. Thankfully the mad trip with the ramp on the roof of the car went well and no policemen were encountered along the way.  The following winter there were more competitions and more success. He achieved his first '1080' and a double forward somersault, this is a particularly difficult jump as one does not see the ground before one lands. In autumn he and some friends returned to Kaprun and the Kitzsteinhorn to train for the European cup the following winter, in which he achieved some good and some not so good results.  The same winter there also was a freestyle event planned in Gothenburg. Together with some friends and sponsors he organised this new event in the town centre of Gothenburg. Snow was procured from the ice-skating rinks close by and flown in via helicopter to build a big ramp. They had no idea if anyone would even show up but it turned out to be a great success with over 10,000 people attending the event.
Education, studies, etc.
Back at work he had by now obtained his final qualifications and changed his employer. The boss of the new company was also a great sports-fanatic which made organising his job around his sport a great deal easier. As before, he could take all his leave in winter and then work more in the summer. This arrangement continued until he was nominated to join the first Swedish national freestyle team. Initially he was unsure, was he just supposed to quit his job? Thankfully his boss was able to help him in his decision. His boss' answer was that there was no way that he should let this opportunity pass by and so he left work there and then.
More about "education, studies, etc."
The first ever national team for freestyle skiing was assembled and he was a part of it. So what was there to do now? Train more of course. He returned to Kaprun and the Kitzsteinhorn where he stayed the entire summer. In autumn he moved to Tignes in France to train with the national team before the competitions started. And this was how he divided up his time while he was part of the national team. During the summer he worked as a holiday rep for Swedish travel agencies in Zell am See and spent every free moment training. Some years he spent approximately 300 days a year in the snow. Even his friends considered that he was addicted to training. He also took work as a waiter, cook, freestyle trainer, ski instructor, sports teacher and as a precision engineer. In his free time he rebuilt cars, built new ski bindings and designed specialised ballet ski poles.
He also had several successes in his discipline during his period in the national team: He was repeatedly the Swedish champion, won Swedish competitions and was listed as one of the 10 best freestylers in the world. Yet all things eventually came to an end and so did his freestyle life. He stopped the competitions to return to education and schooling. He studied sports at the Bosön Sport University College. His first contact at the University College was with a teacher who asked him which sports he had been active in. As the teacher heard that he had been a freestyler the teacher started to recall that on one of his holidays in Åre some crazy person was trying to break the world record in ballet skiing for 24 hours. The teacher then asked whether he knew that guy. Of course he did – he was that "crazy person". During his time back in education he also started sport climbing and fascinated by it, he opened the first indoor climbing wall with a friend with hand-made wooden grips. He also started teaching skiing at the university college even as a student. His course in sport psychology made him start thinking about novel ways to teach skiing and this lead to the foundation of his 'Ski Clinic'. The time spent back in education was one of the happiest of his life. He learnt a lot and was bursting with new ideas on what to do with his future.  As graduation approached he started thinking about what to do next. Should he return to his old job installing heating systems? That was not going to happen!
During that period a host of different skiing magazines had started writing about adventure holidays and activities (such as climbing, hiking, mountain-biking, rafting trips and many more). Thinking about where all these activities could be combined in one place only one came straight to his mind and it was one he knew well – Zell am See in Austria. During his final year at the university college he started to plan how to set up a company offering all these activities in Zell am See. He contacted travel agencies he had previously worked with during his time on the national freestyle team and talked to them about his plans. He also bought a minibus, a rafting boat, some climbing ropes and other equipment. He left the sport university college with great exam results and high hopes and made his way to Zell am See to start up a company called: Adventure – Service. Once again back in the place where everything had begun. As it turned out not everything was as easy as it seemed. The Swedish travel agencies were very keen to offer his new activities to their customers; that was not the problem. The lacking specialist qualifications were the big issue. He had no idea of how the system works in Austria and had just started offering his services. After the initial teething problems he started anew, this time with an Austrian partner. Skiing still took up a large amount of his life yet other sports were also becoming more important. One of these was sport climbing. He had initially started during his time at university and he now through himself into training like a madman
Let's go to the Alps
He tried to climb everything he came across and worked on his strength and endurance nearly every day. Wolfgang Güllich was his idol and he followed his advice described in Güllich's book on climbing rigorously. The day he achieved climbing a grade X he had a big smile on his face. Another activity he taken up in Austria was paragliding. Paragliding became his new pet project even if his initial attempts were fraught with crash landings. Yet eventually he mastered the flying and gliding and started taking part in competitions. He took part in the first Dolomitenmann competition and additionally took some filming jobs for the ORF (Austrian Broadcasting Cooperation). His other specialised qualifications in Austria also were obtained one after the other starting with his rafting guide qualification.
More about "let's go to the Alps"
However, the real reason behind the emigration to Austria had always been the mountains. During his initial period as a holiday rep in Zell am See he got to know some local mountain guides and also organised trips with them. Very early on he wanted to achieve the qualification to be a mountain guide, yet in the early days it was only possible to be a mountain guide in Austria if one was Austrian. So he initially became a hiking guide and during that qualification he enquired again whether it was now possible to be a mountain guide as a Swede in Austria. The course instructor informed him that since both countries had joined the European Union the earlier citizenship requirements no longer existed. Motivated by this new possibility he started what was to be a new part of his life. More than anything else before he wanted to be a internationally certified mountain guide and together with a friend who already had obtained this qualification he started to train and go on as many trips in the mountains as possible to achieve his goal. To even be allowed to sign up for the entry exam one has to have completed at least 100 different tours in all alpine disciplines (such as ice-climbing, ski-touring, high-altitude tours) and to be able to climb to a certain standard.
The entry exam was over an entire weekend on the Dachstein. He successfully got through the exam after many a nerve-racking moments and the real work towards being a mountain guide could begin. Of 140 applicants who "sat" the entry exam only 20 were taken. After 2 years of various different courses, exams, sweat and tears, but also many very happy moments the final exam, spread over two weeks, took place in Chamonix in France. After these two weeks of hard work, with guided tours and exams, all was done. He had achieved his goal with great dedication, hard work and a great deal of discipline. He was the first Swedish national to successfully become an Austrian mountain guide and he had tears in his eyes when he was presented with his certificate in front of his instructors.
Finally he was now a qualified mountain guide (the official title is: state-certified mountain and ski guide) and he now had a whole range of new possibilities open to him.  Prior to completing his training as a mountain-guide he had initially worked together with travel agencies offering his services during the winter months based on his ski-clinic concept he had developed during his time at university. His ski-clinic consisted of a two-day course to help ones skiing technique with different methods generally offered by the traditional ski-schools. The ski-clinic was based on his own experiences gained during his time in the Swedish national team, on the Feldenkrais method, Inner Skiing, Sybervision Skiing and relaxation techniques. It was unique, educational and interesting. The most bizarre item of his training method was an enormous mirror (6m wide and 2m high) mounted on the slope. This made it possible to ski towards the mirror and then have a direct feedback on ones movement. He was even invited to present his techniques to the ski-instructor association of Salzburg to explain his concept.
Pure skiing with dr. snow
However, at one point the Swedish travel agencies started to vanish from Zell am See and for a few years he worked as a normal ski-instructor which slowly but surely lead to him losing all his interest in skiing. Now with his status as an official mountain and skiing guide he started with what is known today as free-riding. He rediscovered his love for skiing and enjoyed it more than ever before – just to be far away from the prepared slopes and in the backcountry. He was on a quest to find the best spots for skiing off-piste in the deep snow. The equipment available also was starting to specialise for free-riding and made it even more enjoyable. The wider free-ride skis, specialised bindings and colourful clothing were among many of the specialist items available as free-riding started to develop into its own dedicated outdoor activity as snowboarding had done previously.
More about "pure skiing with Dr. Snow"
This development of free-riding is, however, far from complete. It has actually only just got going.  It now has been a few years that he made himself independent working as a free-ride specialist. He is an instructor for Salzburg's ski-teacher association and is also a guide in the 'Free-ride experience' team.  In his long career on skis he was very privileged to visit many different places. Some of the highlights were heli-skiing, cat-skiing and free-riding in Canada with his ultimate favourite being a heli-skiing trip in Haines, Alaska. (His time spent travelling around the globe with the Swedish national team should also not be forgotten in this list)
At this point I have reached the part of this 'story' and the past has caught up with the present.  It now seems appropriate to tell you how "Dr Snow" came into existence.  During his free-ride trip through Canada with a Swedish friend he visited amongst others the ski resort of Whitewater in the southern fringes of British Columbia. They were staying at the Hume Hotel in Nelson and one evening after dinner they were talking to local mountain-guides and ski-instructors in the hotel bar. Their conversation obviously turned to skiing and the local mountain range. After a while the name Dr Snow popped into his head. After a brainstorming session with his Swedish friend it was clear to them that Dr Snow should be a mountain-guide who was experienced and had the correct qualifications. He would also guide his guests through the stunning winter landscape in a respectful manner to both nature and his guests. The initial name and idea of Dr Snow has by now developed into product applicable to many areas, but will always have skiing close at its heart.  Diligence, patience, hard work, environmental sustainability, quality, honesty and originality are central and essential core values.  As far as possible Dr Snow tries to avoid contracts written on paper as paper can rip. He considers a strong and honest handshake, which also shows respect to both to the mountains and to nature, to be far more valuable – as these contracts cannot be breached.
"Those you only work have no time to dream. Only those who dream can obtain wisdom"